Financial Planning Software by Trust Builders, Inc.
Trust Builders, Inc. a Dallas, Oregon (yes, Oregon) software develop company, provides
retirement planning software
for financial advisors focused on helping advisor educate their customers efficiently. The software, The Retirement Analysis Kit (aka TRAK) includes a large number of reports. For advisors, reports are a key aspect of the deliverables, therefore TRAK's reporting engine is key part of its success.
The Challenge
The reporting engine must provide the required functionality in user interface experience, allow for professional designed reports and provide components and classes that are well structured not only to allow the required functionality, but also customizing the user experience.
In the rapidly changing world of software, user interfaces requirements change rapidly. In the early world of Windows, modal windows were in vogue. Over the years, the role of the modal windows has significantly decreased. And more recently, the ribbon toolbar has enhanced the graphical user interface. Trust Builders, Inc. required a reporting tool that adapts to the trends and provides the functionality required.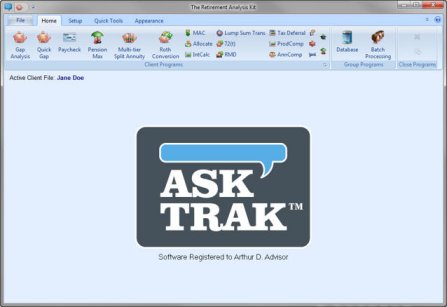 The Solution
Quick Start
Out of the box, ReportBuilder easily allows for getting up to speed quickly: integrated report previewer, data base access, charting, report explorer, an end-user report designer for those needing reporting solutions today, ReportBuilder provides a complete reporting solution.
Integration
While having all of the features that ReportBuilder provides to quickly get you up to speed, there are other important issues. One is tight integration: as TRAK has matured, there has been the need to provide tighter integration of reports within TRAK. ReportBuilder has made this transition easy on several levels.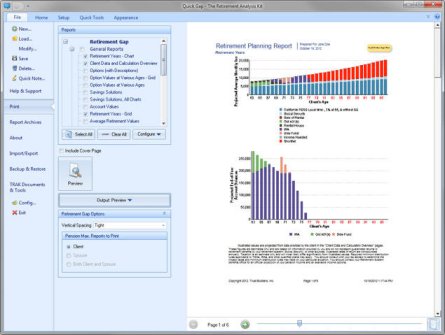 For the integration into the user interface, ReportBuilder appears as a natural part of TRAK with a modern ribbon interface. As shown above, the previewer is fully integrated. With ReportBuilder's flexibility, the report order can be customized for an advisor's preferences (e.g. the page order can easily be customized). And output can easily be sent to multiple formats (PDF, printer, and/or previewer) at the same time. Additionally, ReportBuilder allows for saving reports so that a copy of the report can view later. This integration has been a real bonus for helping our customers have features that they require.
Additionally, ReportBuilder's report designer allows for designing professional reports. In designing a report, a graphical design recently asked "what are the limits of the reporting engine?" Our response was to design the perfect report and we would see what the reporting engine could do. The final report was almost identical to the initial goal. ReportBuilder provided the flexibly we needed.
Simplifying Complexities
Under the hood, a reporting tool needs to have a good object-orientated design. It needs to have its own scripting tool to best encapsulate report logic. And it needs to be flexible to help programmers be efficient with their time. ReportBuilder delivered.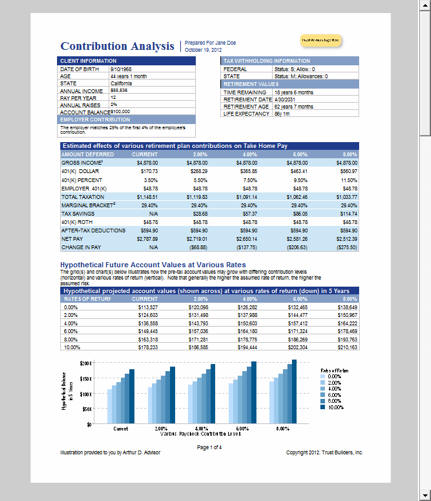 The object-orientated implementation of ReportBuilder makes navigating the class structures easy. Properties have names that would be expected, and this reduces the time it takes to learn to work with the product. Class structures can be derived from and extended to provide needed user interface changes or other functionality you tools require.
ReportBuilder's scripting tool (Run-time Pascal, or RAP) provides run-time efficiencies. This keeps your application free from having to implement code for a specific report, and allows for complexities to reports otherwise not available. (The report shown above allows for the number of columns to vary, but always taking up the same width. This is implemented with RAP and pass-through functions).
ReportBuilder provides flexibility. Data can be accessed easily from their Data Access Development Environment (DADE), or directly through datasets, text files, or class structure allowing reports to access their data in a natural way. (No need to create datasets just for reports!).
Another area the flexibility of RAP was taken advantage of was with charts. TRAK includes a number of charts (using Steema's VCL charting). Often, the difficulty in charting is maintaining two different charts: one in the user interface, and another one in the report. Because of the flexibility of ReportBuilder, TRAK maintains only one chart object, and the report in TRAK gets its image from the user interface. This flexibility has greatly reduced the amount of time needed to implement quality reports. Again, ReportBuilder delivered.
Support
Any complex software requires support, and Digital Metaphors' support is top rate. The response time is quick, and this helps reduce programmer frustration. This is key in any third-party tools used by programmers.
A Complete Solution
ReportBuilder provides a complete solution for Delphi programmers. From getting started, to full integration into complex applications. ReportBuilder provides an excellent reporting option for any Delphi programmer!