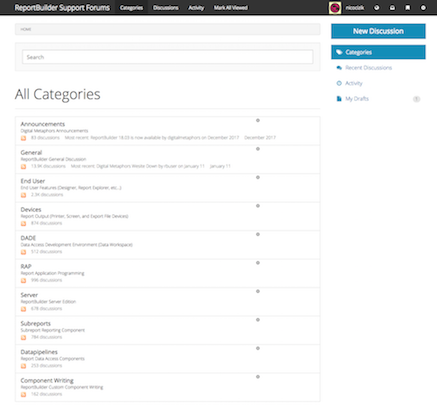 Along with the introduction of our new web site we would like to introduce the ReportBuilder Support Forums!
The support forums provide a fast and friendly way to communicate with Digital Metaphors engineers and the ReportBuilder community.  Use it to ask questions, get support, and find the latest information about ReportBuilder releases and fixes.
Support Forums in, Newsgroups Out
The new on-line support forums replace our existing Usenet newsgroup server which has now been disabled.  The new forums contain the same topic categories as the newsgroups did so the transition is fairly easy.
We are also aware that there is a wealth of information on the old news server.  This is why we transferred all newsgroup threads to the new forum as archived messages which can be accessed and searched by anyone.
Sign up, Log in
So the next thing to do is sign up for a forum account and log in to post your questions or comments.  Please be sure to read over the forum guidelines before posting. 
Happy Reporting!